Happy International Women's Day!
At Operation Fistula we're working to end obstetric fistula for every woman, everywhere. Women and girls sit at the heart of everything we do, and our team – which is 80% women – is dedicated to addressing the systemic failures that perpetuate the horror of fistula.
Today, Operation Fistula has a lot to celebrate, but we thought we'd highlight the work of three incredible women that our Analytics Assistant, Chloe Eddleston, met while participating in Tostan's community-led development training in December. This International Women's Day we celebrate the strength, diversity, talent, and power of all women and girls, and call on the global community to double-down on their work to end the persistence of inequities that limit their potential.
Join the conversation @Opfistula #BalanceForBetter #IWD2019!
The mission of Tostan states: "Tostan empowers communities to develop and achieve their vision for the future and inspires large-scale movements leading to dignity for all".
The December training course brought together community leaders and activists from across sub-Saharan Africa, to learn about Tostan's highly acclaimed Community Empowerment Program. They work to support and empower their "partner communities to define and fulfill their own vision for wellbeing, allowing them to create positive and lasting social transformation". If you want to find out more about Tostan's amazing work, click here.
Chantal Ayemou
Unlike other Tostan training sessions, women were in the minority in Chloe's training group. This did not, however, stop their voices from being heard loud and clear. Chantal Ayemou, was quick to put herself forward as class representative, or village leader, as it is referred to at Tostan.
Chantal is the president of RIDDEF, the Ivorian network for the protection of women's and children's rights, and an awe-inspiring matriarch. Throughout our time at Tostan, Chantal ensured that the less outspoken among the group had their voices heard, and constantly called for gender parity in group discussions. Chloe spoke to her between classes about her work with RIDDEF, and about the intersection between feminism and international development:
Can you tell me a bit more about your work with RIDDEF?
We work on human rights, but more specifically on women's and children's rights. Why? Because we know that women and children are more vulnerable than men.
Cote d'Ivoire has seen not one, but two political crises, in the last 15 years (The first Ivorian civil war took place from 2002 – 2007, and the second from 2010 – 2011). I went through both of them, as both a victim, and a woman. I saw lots of women suffer during this time, and so I decided to do something about it, and started to fight for our rights.
What does it mean to you to be a woman in development?
I'm proud to be a woman. I am just as capable as my male counterparts. I see being a woman as an incredibly powerful thing. Women can and must participate directly in the development of both their community and their family.
How do you think female and male development actors ought to interact in the often siloed sphere of development?
I believe that women, and men, all have something to offer to the development of their community or their country. A country can't develop with just men or women. Everyone has skills that they can bring, so we need to work together.
I have noticed that there's an increasing number of development projects that focus uniquely on women, and project outcomes tend to be underwhelming. I think that men need to be involved as much as possible. To put it simply, men play a role in this, so we need to work with them too.
Ina Fatmata Sangaré
Chloe also spent time talking with Inna Fatmata Sangaré, Internal coordinator at AMSOPT – Malien Association for the Monitoring of Traditional Practices. AMSOPT is a Malian NGO that works with local communities to end the harmful practice of FGM.
What made you decide to work in development?
FGM rates in Mali are currently estimated at 89% among 15-49 year-old women. This makes Inna's work both challenging and essential. Much like Tostan, AMSOPT's approach is deeply rooted in the belief that communities play a key role in the fight to end FGM. As a result, they work with community leaders and activists to gradually change the social norms that surround the practice of FGM.
I decided to work in development because I had dreamed of doing so since I was small, and I was determined to promote children's and women's rights from a young age. I'm from a very conservative family, where FGM is still practiced, so I wanted to be able to change their views, and stop this from happening to another generation.
When I married my husband, who is a doctor, he added his voice to mine, and this then helped me to be heard.
How do you understand your role as a woman in development?
I think that there is something unique about the role of women in development, particularly in their ability to inspire others. I run a workshop in a tailoring school in my region, and mentor the young girls there, to prove to them that they can go above and beyond the gender roles that their society has given them.
They can see that I have kids, that I'm a wife, but that I'm also an independent woman, who works to benefit her community. I'm able to inspire them, and this to me is really impactful.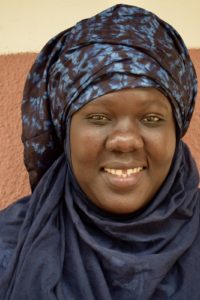 Salie Thiam
Salie Thiam, another inspirational woman that Chloe met at Tostan, believes that development cannot be understood in isolation from gender. Originally from the Fatick region, Salie holds a Masters in Government and Political Studies from the University of Dakar, where she specialized in Political Science and International Relations. She currently works at RADI, the African network for Integrated Development, as the National coordinator of their legal program. Salie's passion for women's rights is both discrete and powerful. During the training, Chloe and Salie had many conversations about feminism in Senegal, and the UK, and discussed how Salie's personal experience has made her the woman she is today.
What does it mean to you to be a woman in Senegal today?
Being a woman in my family and community was to be a mother, a sister, and a cleaner. In my family, neither my mother nor my dad went to school, but they both supported me and invested in my studies. As a result of my education, I was the person that my family trusted, and I became responsible for family decisions from a young age.
How did your decision to pursue higher education impact your life?
Being a highly educated woman in my society is incredibly hard. My mum and dad fought hard so that I didn't have to marry young. They wanted me to be a somebody. There was a great deal of pressure to get married, I was one of the last people of my age to get married. At the time, I didn't care, but other people definitely did. I got married after my masters, when I was 27, and I'm glad I did it this way. I now have my studies, my family, and a job.
In terms of my professional life, it's definitely been hard. I find it really challenging to lead the men and women that I work with. Many of them are men, and they don't like working with women who are more qualified than them.
What does feminism mean to you?
To me, feminism can often be seen as quite a Western concept, so I define myself as an "African feminist". I think our traditional cultures are always seen as being in opposition to feminism, and while there are definitely some problems, there are some good things too. I want to build on our feminist traditions, whilst still being open to other cultures.
Special thanks to Tostan for inviting us to join their training program, and to Cartier Philanthropy for supporting our attendance at the training.